Roasted Chicken, Potatoes & Veggies. Place with onion in large, shallow foil-lined baking pan. Roast Chicken with Roasted Potatoes and garlic sauce – an all time favorite Sunday supper at my house. A delicious and juicy roast chicken served with perfectly roasted potatoes and an easy garlic sauce that's to die for.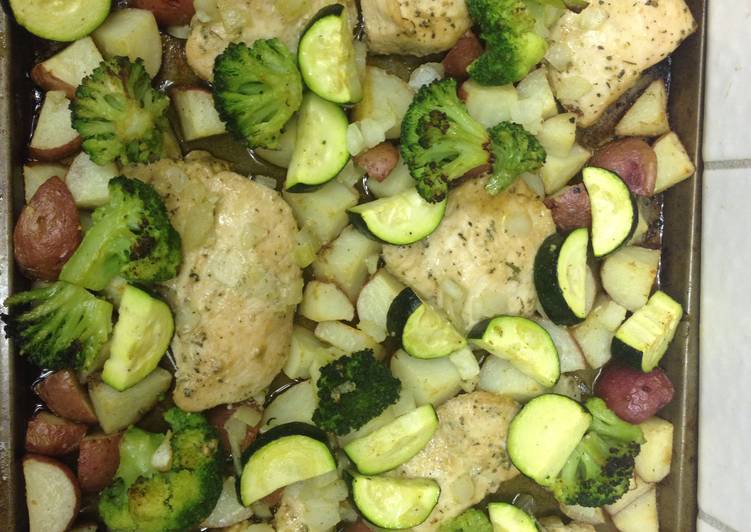 Test Kitchen Tips Common olive oil works better for cooking at high heat than virgin or extra-virgin oil. Take out of the oven and carefully flip chicken around. Rinse the chicken inside and out and pat dry. You can have Roasted Chicken, Potatoes & Veggies using 20 ingredients and 11 steps. Here is how you cook it.
Ingredients of Roasted Chicken, Potatoes & Veggies
Prepare of chicken.
Prepare 1 1/2 lb of Chicken breast.
You need 1 tbsp of Olive oil.
You need 1 tbsp of Worcestershire sauce.
You need 1 1/2 clove of Minced garlic.
It's 1 tsp of Oregano.
You need 1 tsp of Seasoning salt.
Prepare 1/2 tsp of Chili powder.
Prepare 1/2 tsp of Black pepper.
Prepare of vegetables.
Prepare 8 of Red potatoes.
It's 1 1/2 cup of Frozen broccoli florets.
Prepare 1 of Zucchini.
Prepare 1/2 of Onion (or 1/2 bag frozen chopped onions).
You need 3 tbsp of Olive oil.
Prepare 1 1/2 of Minced garlic.
Prepare 1 tsp of Seasoning salt.
It's 1 tsp of Black pepper.
Prepare 1 tsp of Garlic salt.
You need 1 of Pack or can of chicken gravy (optional).
Generously sprinkle salt and pepper inside the cavity, and then add the rosemary, thyme, onion, garlic and lemon. Place chicken in the center of skillet and arrange potatoes around. Roast until potatoes are golden brown and crisp and an instant-read thermometer inserted into the thickest part of breasts. Roast chicken and potatoes, turning potatoes once or twice to coat in juices and oil that accumulate in pan, until potatoes are very tender when pressed with the back of a spoon, and chicken skin.
Roasted Chicken, Potatoes & Veggies instructions
Cut chicken breasts down to approximately 2" x 3" or anywhere in that size range. Add chicken and all seasonings listed above for chicken into ziplock bag and shake to coat chicken and mix through. Set aside..
Heat oven to 400..
Clean potatoes and zucchini, pull frozen broccoli from freezer and set aside..
In a large mixing bowl add olive oil and all seasonings for vegetables..
Cut potatoes and add to mixture as you finish each one. This keeps any potatoes from starting to brown if you do a quick mix after a couple minutes. Mix all potatoes with olive oil and seasonings..
Using a large baking sheet with a lip, spoon potatoes across sheet. Using a slotted spoon works best so you don't have too much oil on potatoes and so you can use the remaining oil and seasoning for the veggies..
Bake potatoes for 10 minutes by themselves..
Add broccoli and onions to mixing bowl with olive oil left over from potatoes. Cut zucchini and add to bowl. Mix well..
Pull baking sheet from oven. Place chicken throughout and spoon veggies over everything. I try to keep as much off of the chicken as possible..
Bake for 35 minutes or until potatoes and chicken are cooked through..
Optional – serve with chicken gravy. Enjoy!.
In a large roasting pan or casserole dish, add chicken, potatoes, carrots, onion, garlic and olive oil. Season with salt and pepper and toss to coat. One pan meals are all the rage and with good reason. This lemon spice roasted chicken is the perfect meal to satisfy your craving for comfort food. It's simple enough for a weeknight dinner but also special enough for guests.