Not your mommas chicken soup;). Add more bone broth if desired and/or water to achieve the desired amount of broth and thickness. DIVIDE the chicken legs into thigh and drumstick portions. PLACE the chicken in a large saucepan or Dutch oven.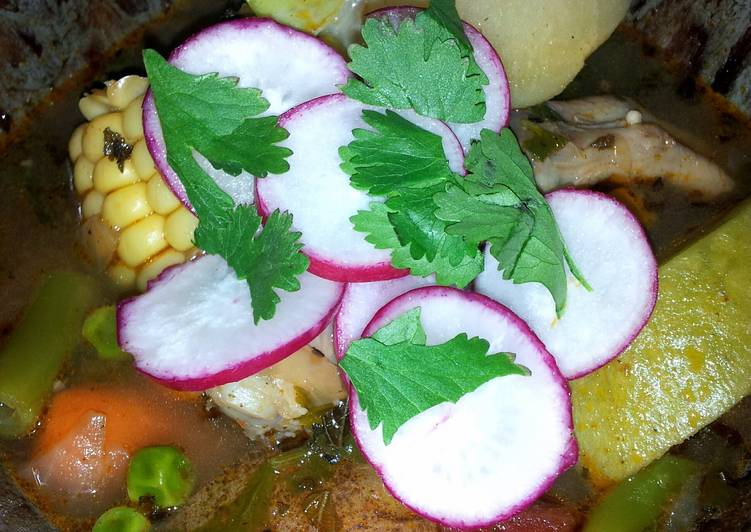 And knock a cold on its tush! dazednene. Don't get me wrong I am all about my mama's chicken soup. It is delicious, but sometimes I like to change it up a bit and this Chicken Fajita Soup is one of my favorites. You can cook Not your mommas chicken soup;) using 21 ingredients and 5 steps. Here is how you achieve that.
Ingredients of Not your mommas chicken soup;)
You need 2 lb of cleaned and denailed chicken feet (don't leave!).
Prepare 1 lb of chicken gizzard/heart mix.
It's 1 of onion diced.
It's 3 clove of garlic minced.
Prepare 3 tbsp of chili powder.
You need 2 tbsp of cumin.
It's 2 tbsp of oregano.
You need 3 tbsp of chicken bouillon (or to taste).
You need 1 can of stewed tomatoes.
Prepare 4 of chicken wings.
Prepare 3 of chicken legs.
You need 1 lb of boneless chicken leg meat cut into cubes.
Prepare 2 of chayote (or zucchini) cubed.
Prepare 2 of potatoes cubed.
Prepare 1 cup of baby carrots.
It's 2 cup of frozen mixed veggies.
Prepare 1 of corn on cob cut into pieces.
Prepare 1/2 cup of chopped cilantro.
Prepare 1 small of head cabbage cut in chunks.
It's 1 of salt and pepper to taste.
Prepare 1 of cayenne pepper to taste.
This soup brings together all my favorites from traditional fajitas into a light but still hearty soup. This chicken soup recipe has all those beautiful, loving flavors you remember from mom's soup, with an added hint of mouthwatering freshness. It's better than your Mom's Chicken Soup! The crunchy corn kernels pair perfectly with the chewy green peas and soft-cooked carrots.
Not your mommas chicken soup;) instructions
throw first 9 ingredients into large stock pot, cover with water, bring to boil, cover and simmer for 25 minutes..
add chicken wings, chicken legs and leg meat, bring back to boil, cover and simmer for 25 minutes.
add chayote, outdoors, carrots, frozen veggies and corn on cob, bring back to boil, cover and simmer for 20 minutes.
add remaining ingredients, bring to boil, cover and simmer till done, about 15 minutes.
enjoy! the feet add something amazing to the broth, I like to add chopped radish and lime juice to my bowl, so yummy!.
And the shredded chicken absorbs these flavors, along with the. Since I was only making it for us two guys, I reduced the recipe ingredients by half. Any other changes or additions are in parentheses. Let's just say, sometimes, ya gotta improvise! Dump all the ingredients into a slow cooker.