Soy inspired chicken skillet. Soy inspired chicken skillet OK, I know, weird combination of seasonings. I like spicy on my onions, Italian on my Zucchini, and I was in a soy sauce mood. Add apricot preserves, soy sauce, ketchup and crushed red pepper.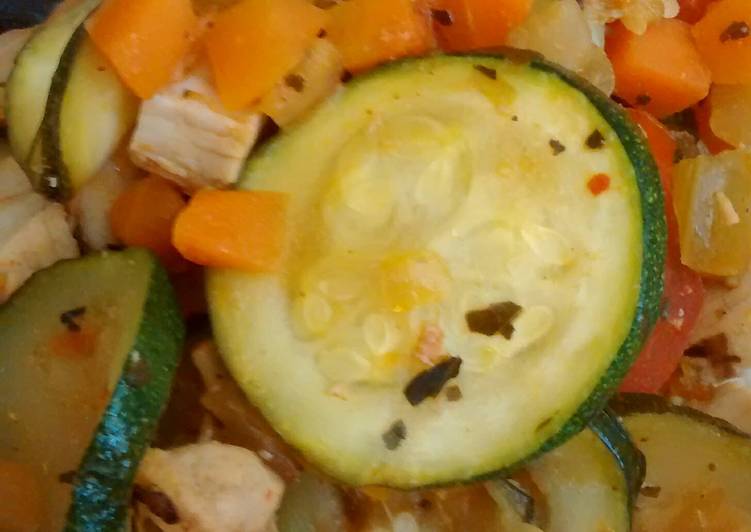 Not only are these Ginger Soy Chicken thighs healthy, but they are juicy, easy to make, and delicious! Using only one skillet is key when making a quick dinner. I make both the chicken and the sauce in the same skillet, and you only end up dirtying one extra plate when you remove the chicken from the skillet. You can cook Soy inspired chicken skillet using 13 ingredients and 3 steps. Here is how you achieve it.
Ingredients of Soy inspired chicken skillet
It's 12 oz of mirapoix style frozen veg.
You need 1 tsp of red pepper flakes.
You need 1 tsp of chili powder.
You need 1 tsp of ground garlic.
Prepare 1 tsp of cumin.
You need 2 medium of Roma tomatoes, sliced.
You need 2 medium of zucchini, thinly sliced.
Prepare 1 tsp of oregano.
You need 1 tsp of basil.
Prepare 9 oz of grilled chicken strips, cut into pieces.
You need 4 tbsp of Ponzu sauce (or light soy).
Prepare 4 tbsp of cooking sherry.
It's 2 tbsp of olive oil.
Honey-soy skillet chicken is a simple, versatile weekend dinner option with a quick honey-soy sauce that doubles as a marinade and a smoky glaze. This post was created in partnership with Farmer Focus. When I first started this site, I dedicated myself to the pursuit of simple food made with seasonal ingredients. Serve this sweet-meets-spicy Thai-inspired chicken with rice noodles or sticky rice to sop up all the delicious sauce.
Soy inspired chicken skillet step by step
Add mirapoix (or chopped onions, peppers, celery) to large skillet with olive oil, chili powder, cumin, and ground garlic. Cook at medium heat until veggies are soft.
Add sliced tomatoes and zucchini. Season with oregano and basil. Cook on medium until zucchini begins to turn color..
Add chicken, Ponzu sauce and sherry. Stir mixture. Cook on low until flavors are mixed and liquids reduced.
Whisk onion, soy sauce, brown sugar, garlic, sesame oil, sesame seeds, cayenne pepper, salt, and black pepper together in a bowl until marinade is smooth. Remove the chicken with a slotted spoon, put in a bowl, and cover the bowl to keep the chicken warm. Pour in the Kung Pao sauce and stir. Leftover chicken is rarely this enticing. A little coconut milk, peanut butter, and Sriracha sauce goes a long way to coat each bite with Thai-inspired tastes.