Seafood and chicken paella. Stir in garlic, red pepper flakes, and rice. This Chicken and Seafood Paella is a classic Spanish rice dish made with Arborio rice, packed with chicken, sausage, mussels, clams, shrimp and loaded with flavor. I have a romantic dish for you today.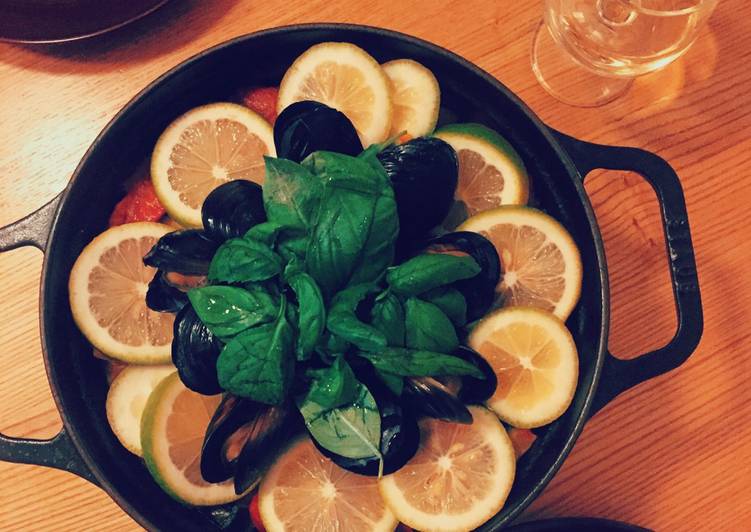 Arrange chicken evenly on top, making sure rice is submerged. This paella achieves excellent results without requiring a full day in the kitchen." – Jeannette. Watch Chef John make a quick-and-easy paella with shrimp and sausage. You can have Seafood and chicken paella using 18 ingredients and 6 steps. Here is how you achieve that.
Ingredients of Seafood and chicken paella
It's 2 cups of rice.
It's 2 pinches of saffron.
It's 10 of mussels.
You need one bag of frozen seafood mix.
It's 1 of chicken thigh.
It's 1 of zucchini.
You need 1 of red paprika.
You need 1/2 of onion.
You need 1/3 stalk of celery.
It's 1 clove of garlic.
You need 1 of lemon.
You need 1 pack of basil.
Prepare 1 can of canned tomatoes.
It's 20 g of bouillon broth powder.
It's 600 ml of water.
It's 100 ml of white wine.
Prepare to taste of salt and pepper.
It's to taste of olive oil.
The seafood was fantastic, but my favorite part were the pieces of golden chicken. Remove from skillet and season with salt and pepper. Remove chicken to a plate, leaving the ham hocks in the pot. Deglaze with white wine and reduce by half.
Seafood and chicken paella instructions
Cook the white wine and mussels in the main pot. Then take out mussels and the leftover broth, and set aside..
Cut chicken and vegetables into small pieces..
Warm the water in a small pot. Put in the broth and saffron..
Put the olive oil, chicken, vegetables and seafood mix into the main pot, fry with the salt and pepper..
Add canned tomatoes, broth, and put in the mussels broth. Heat on medium heat for 30 minutes..
Top with mussels, lemon, and basil..
Quarter each piece of chicken, then season with sea salt and black pepper and dust with flour. Add chorizo and cook until crisp, then remove from skillet. When hot, add the chicken pieces, the chorizo in slices and the prawns and let them fry. Heat the oil in a large nonstick skillet over medium-high heat. Remove chicken from pan; cover and keep warm.