Pesto Z'paghetti with Chicken. Browse & Share Now w/ Your Friends! Get Pesto Pasta Sauce today with Drive Up, Pick Up or Same Day Delivery. Easy and delicious bowtie pasta with chicken, sun-dried tomatoes and pesto sauce.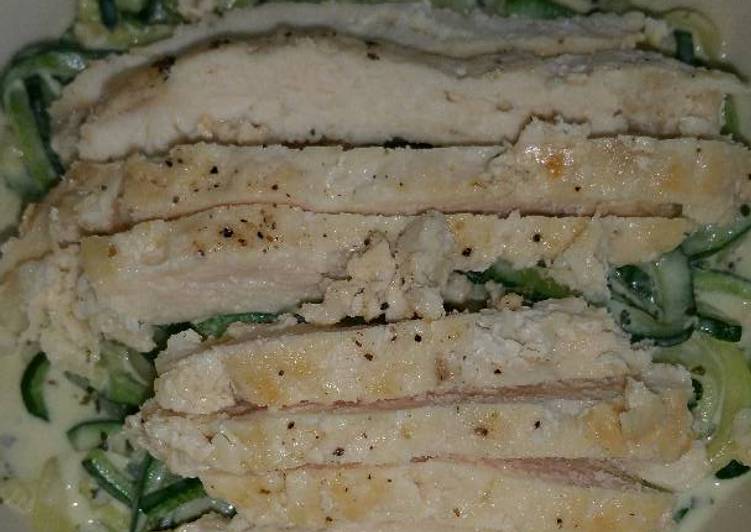 I created it after eating a similar dish at a Santa Monica restaurant, and it's one of my favorites. Serve with additional grated Parmesan, if desired. As an option, it's delicious with creamy goat cheese stirred in at the end. You can have Pesto Z'paghetti with Chicken using 8 ingredients and 5 steps. Here is how you achieve it.
Ingredients of Pesto Z'paghetti with Chicken
You need 28 oz of spirilized zucchini, about 4 medium.
You need 1/2 c of light/low-fat Ricotta cheese.
It's 1 T of grated Parmesan cheese.
Prepare 1/4 oz of pine nuts.
You need 1/4 c of plus 2 T chopped fresh basil.
Prepare 1 T of chopped garlic.
You need 1/2 tsp of each salt and pepper.
You need 8 oz of boneless chicken breast, pounded to 1/2" thickness.
Return the pasta, beans and spinach to the pan, pour in the pesto from the processor and stir together, loosening with splashes of cooking water until silky. Slice the chicken breasts in half and serve with the tomatoes and chilli spooned over the top. Finely grate a little extra Parmesan over the pasta, then sprinkle everything with basil leaves. General: Never toss pesto pasta on a hot stove, heat will make basil black!.
Pesto Z'paghetti with Chicken instructions
To make sauce, combine in a small blender: Ricotta, Parmesan, pine nuts, 1/4 c basil, 1-1/2 tsp garlic, 1/4 tsp each salt and pepper. Add about 3 T water. Blend until uniform..
Spray large skillet with cooking spray and heat on med. Season chicken with 1/4 tsp each salt and pepper. Cook until no longer pink, about 4 min. on each side. Transfer to cutting board and slice..
Remove skillet from heat and wipe clean. Re-spray and bring to med. heat. Add zucchini and 1-1/2 tsp garlic. Cook and stir until slightly tender. Drain excess liquid from pan..
Add in sauce, cook and stir until noodles are evenly coated with sauce..
Plate noodles and top with chicken. Sprinkle with remaining chopped basil..
Meanwhile, in a large skillet, saute mushrooms and red pepper in oil until tender. Reduce heat; stir in the chicken, artichokes, pesto, tomatoes, salt and pepper flakes. Drain pasta; toss with chicken mixture. Sprinkle with cheese and pine nuts. In short this recipe is horrible.