Zucchini Chicken Quesadillas. In a medium bowl, combine the chicken, zucchini, bell pepper, tomato, onion, jalapeno and garlic. Cut the lime in half and squeeze the juice over the chicken mixture. Add the cheese, Tabasco and cumin; mix well.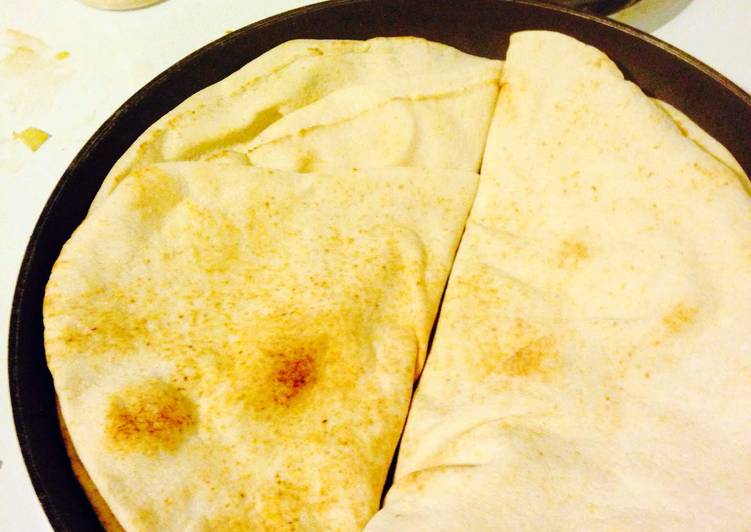 Spread remaining butter over one side of each tortilla. Place tortillas butter side down on a griddle. A quesadilla is a tortilla typically filled with beans and shredded cheese then folded before being toasted or fried. You can have Zucchini Chicken Quesadillas using 9 ingredients and 5 steps. Here is how you achieve it.
Ingredients of Zucchini Chicken Quesadillas
It's 1 of Chopped zucchini.
You need 2 of Chicken breast (cooked and cubed).
Prepare 1/2 of Chopped onion.
Prepare 2 of Lebanese pockets.
It's 1/2 cup of Reduced fat shredded cheese.
It's 2 tbsp of Hot salsa.
Prepare 1 tbsp of Light country crock butter spread.
Prepare 1 of as needed Adobo.
Prepare 1 of as needed Garlic powder.
Our version features cheese and cooked vegetables. Sour cream, shredded lettuce, sliced avocado, and bottled salsa make great accompaniments to quesadillas, so serve them on the side. Repeat with remaining oil and butter to cook all quesadillas. Cut quesadillas into wedges; serve with remaining dressing for dipping.
Zucchini Chicken Quesadillas step by step
Melt butter spread in frying pan and add onions.
Saut? onions and add zucchini, chicken (cubed) and season to taste.
Add cheese and take off hear.
In a separate frying pan, place Lebanese pockets. Fold them in half to create a pocket and add half the filling to each pocket. Cook both sides of the pocket until they are crispy.
Cut into 4's and eat with salsa.
Cheesy chicken-and-zucchini quesadillas are a quick and easy weeknight meal. [Photograph: Nick Kindelsperger] Basic cheese-and-tortilla quesadillas are a quick snack, but by adding simple ingredients like sweet sautéed zucchini, smoky chipotle chilies, and shredded roast chicken, they become a weeknight meal that still takes almost no time to make. Season chicken breasts with salt and pepper. Grill chicken until cooked through and then slice into small pieces. Heat a pan with the olive oil and sautee onions, garlic, and zucchini until the zucchini becomes tender. On a pizza pan, lay one tortilla down and top with chicken, veggies, and half the cheese.