Chicken Zucchini So Low Mein. Using a spiral vegetable slicer, cut zucchini into spaghetti-like noodles. This Lo Mein is hands down the best thing to come out of my spiralizer (we even made curly fries once!). This recipe is so full of veggies that seconds are a guilt-free must-do.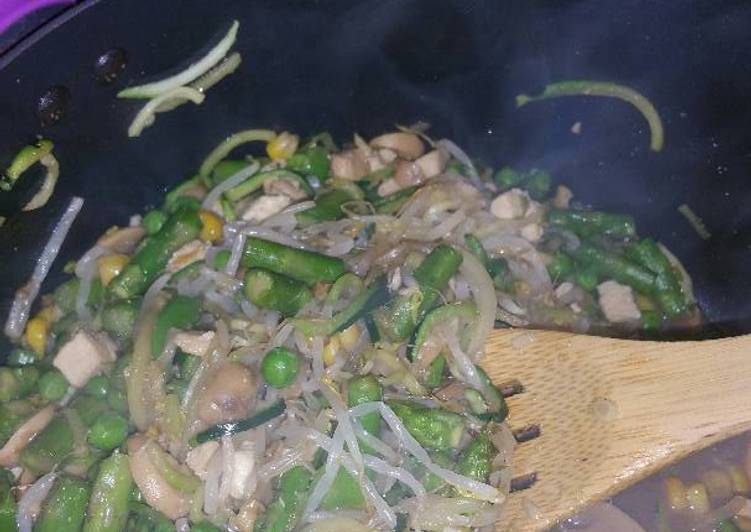 It is a bit on the bland side so next time will try a little hot sauce in it! The Lo Mein will start off perfectly sauced and by the time it cools down, the zucchini noodles will start to shed a bit of water, but it still tastes good. Before I tried vegetables noodles, I would have never been able to imagine a time where I would dive headfirst into a bowl of veggies like this. You can have Chicken Zucchini So Low Mein using 12 ingredients and 3 steps. Here is how you achieve that.
Ingredients of Chicken Zucchini So Low Mein
Prepare 2 T of reduced-sodium soy sauce.
Prepare 1 packet of natural no-calorie sweetener.
It's 1 tsp of sesame oil.
It's 1/2 tsp of crushed garlic.
You need 1/2 tsp of onion powder.
You need 20 oz of spiralized zucchini, 2-3 medium.
It's 8 oz of boneless, skinless chicken breast, cut into small pieces.
Prepare 1/4 tsp of garlic powder.
You need 1 c of frozen Asian-style Stir-fry vegetable.
Prepare 1 c of bean sprouts.
Prepare 1 c of mushrooms, quartered.
It's 1/4 c of scallions, chopped.
Best of all, it's packed with fresh vegetables, lo mein style zucchini noodles and a flavorful authentic sauce SO much better than takeout! We've been on a big noodle kick lately. Start by slicing the chicken into thin strips and then marinating it in the dry sherry, coconut aminos (or low sodium gluten free soy sauce), garlic, and ginger for about half an hour or so. Then, thinly slice the bell peppers and green onions and using a julienne peeler , or a spiralizer , make 'zoodles' from the yellow squash.
Chicken Zucchini So Low Mein instructions
Sauce: in small bowl, combine soy sauce, sweetener, sesame oil, crushed garlic and 1/4 tsp onion powder. Mix well..
Spray wok or large skillet with cooking spray and heat over medium-high heat. Add chicken and sprinkle with garlic powder and 1/4 tsp onion powder. Add frozen veggies, sprouts and mushrooms. Cook and stir about 5 min, until chicken no longer pink and veggies are hot and tender..
Add zucchini noodles and scallions. Cook and stir until hot and slightly tender, about 3 min. Drain excess liquid. Add sauce and stir until evenly coated and mostly absorbed, about 2 min..
Each bowl is loaded with chicken and vegetables in a savory sauce. If you want to make this meatless, tofu would also be great in this dish. When chicken is almost cooked, add in carrots and bell peppers. Cook until vegetables are tender and chicken is completely cooked. Add in zucchini noodles and pour sauce over noodles.