Chicken in Mustard Sauce. Stir in chicken broth, adding more if the sauce seems too thick. Taste sauce and adjust whatever you think it needs. Add chicken breasts back to the pan, nestling them into the sauce.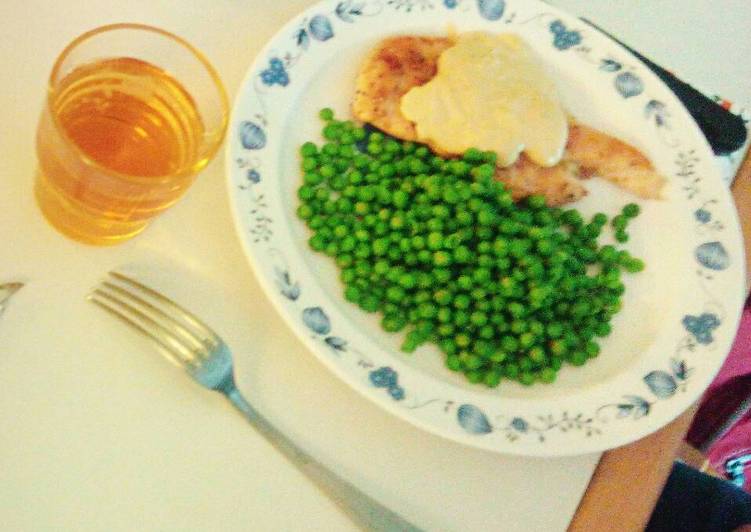 Add mustard while whisking, and then add chicken broth while whisking. Return chicken to pan to coat in sauce (or drizzle sauce over chicken) and serve immediately, garnished with fresh parsley or chives if desired. Cook the sauce to reduce it to about one-and-a-half cups. You can cook Chicken in Mustard Sauce using 7 ingredients and 3 steps. Here is how you cook that.
Ingredients of Chicken in Mustard Sauce
It's 2 of boneless skinless chicken breasts.
Prepare of (to taste) celery salt and pepper.
Prepare 2 teaspoons of sesame seeds.
It's 1 cup of frozen peas.
It's 150 g of cooking cream.
It's 3 teaspoons of Dijon mustard.
It's 1 teaspoon of herbes de Provence.
Mix the dry mustard with the Dijon mustard and stir until smooth. Stir the mustard mixture into the sauce and heat, but do not allow the sauce to boil after the mustard has been added. The Base for Chicken in Mustard Sauce. To create this chicken in mustard sauce recipe, you'll obviously need chicken.
Chicken in Mustard Sauce step by step
Season chicken with celery salt, sesame seeds and pepper on both sides. Heat an oiled pan over medium high heat. Cook the chicken for 5 min on each side or until cooked through and golden brown, depending on the thickness.
Meanwhile, cook peas in salted boiling water for 8-10 min or until tender. Set aside.
Make the sauce: pour cream and mustard in a saucepan over medium heat. Cook the sauce down until it's thick enough to coat the back of a spoon. Then, season with herbes de Provence.
The chicken can be made up of any part: drumstick, thigh, or even breast. However, you should preferably use chicken that still has the skin on so that you can brown the chicken nicely without drying it out. The Mustard Sauteed Chicken in Mustard-Cream Sauce Sauteed Chicken in Mustard-Cream Sauce. Place the cooked chicken breasts and broccoli in a shallow casserole and top with the deviled sauce and the cheese. Broil until the cheese is brown and bubbly.