Easy chicken veggie stir fry. Cook the chicken and vegetable stir fry The chicken. I will start the stir-frying with the chicken and oil. Heat all the oil as required in this recipe into the wok over low to medium heat.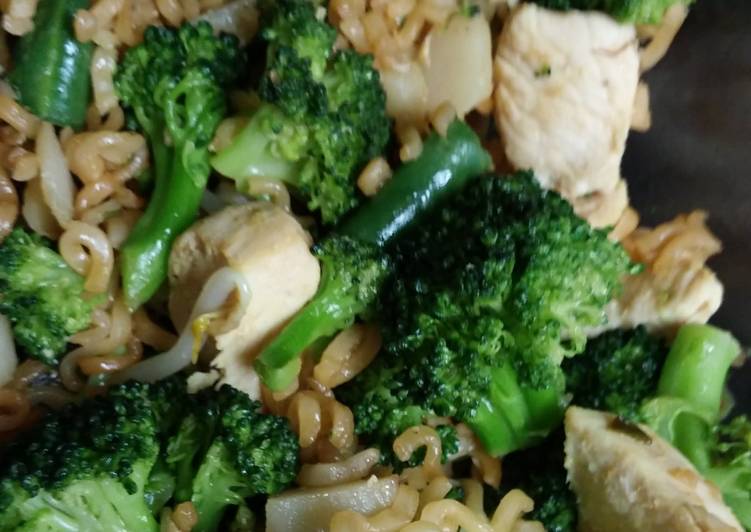 It comes together incredibly fast, and you can switch out veggies based on preference and time of year. Perfect for a quick lunch or dinner! It's free of corn starch, MSG and any other unhealthy "ingredients" you would normally get in your stir fry order from the restaurant. You can have Easy chicken veggie stir fry using 12 ingredients and 12 steps. Here is how you achieve it.
Ingredients of Easy chicken veggie stir fry
Prepare 1/4 of green pepper.
You need 1 lb of cubed chicken breast.
It's 1 can of water chesnuts.
It's of green beans.
Prepare 1 packages of microwave steamed broccoli.
It's 2 of green onions.
Prepare 1 packages of asian rice dry mix.
It's 2 packages of ramen noodles.
You need 2 tbsp of vegetable oil.
It's of soy sauce.
You need of bean sprouts.
You need 1 cup of water.
I also made it gluten free by using Tamari soy sauce. Why make chicken and vegetables stir fry Stir-frys are one of my absolute favorite go-to meals. They are super easy, quick, healthy, well-balanced and so tasty. Every home cook should have a solid stir-fry in their recipe arsenal, and this flavor-packed Chicken and Vegetable Stir-Fry recipe is a keeper.
Easy chicken veggie stir fry instructions
Chop water chestnuts into med. chunks or slices. Put aside.
Chop green pepper into small chunks. Put aside.
Chop green beans into inch sections. Put aside..
Slice green onions..
Cook chicken in med. skillet..
Mash ramen in their packets then brown in large skillet with oil..
Add onions and peppers..
Add asian rice packet, water, and soy sauce. Cook out water..
Steam broccoli as directed on package..
Add water chestnuts and bean sprouts. Saute.
Add broccoli and chicken.
Add soy sauce to taste and enjoy!.
Incorporate more vegetables into you and your family's diet with our easy chicken stir fry recipe. This low-fat chicken and vegetable stir fry is crunchy, packed with flavor (thanks to soy sauce and ginger) and full of color. Once the oil is hot, add chicken, season with salt and pepper, and sauté until cooked through and browned. Remove cooked chicken from pan and set aside. When the mushrooms start to soften, add broccoli florets and stir-fry until the broccoli is tender.