Easy homemade chicken soup. Try Our Easy-To-Make Chicken Soup Recipes. Browse & Share Now w/ Your Friends! Very easy and has a homemade taste.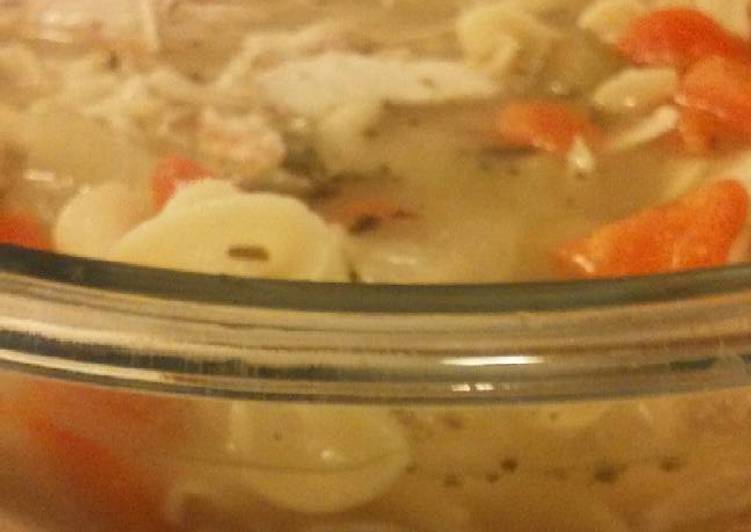 Used frozen egg noodles and added garlic. Also added two cans of condensed cream of chicken soup for a creamier soup. A steaming bowl of chicken soup is a welcome meal on a cold day, but it brings more to the table than just flavor. You can have Easy homemade chicken soup using 8 ingredients and 7 steps. Here is how you achieve that.
Ingredients of Easy homemade chicken soup
Prepare 4 of chicken breasts.
It's 4 of carrots.
You need 4 stalks of celery.
Prepare 1/2 of onion.
Prepare 3 cups of chicken broth.
It's 1 cup of water.
You need 12 oz of noodles, egg yolk recommended.
You need to taste of salt, peper.
The hot liquid will help soothe a sore throat and keep nasal passages moist. And a hearty chicken soup packed with vegetables may also ease such cold and flu symptoms as congestion and coughs. Comfort food shouldn't have to be complicated. Brimming with chicken, vegetables and egg noodles, and seasoned with fresh parsley, pepper, bay leaf and chopped garlic, this chicken noodle soup is comfort food made simple.
Easy homemade chicken soup instructions
Chunk the chicken breasts and brown on medium heat in soup pot. Set aside..
Rough chop carrots and celery then dice onion. Add to pot after chicken is removed, ensure all bits from chicken are encorporated. Cook for 5 minutes..
Add broth, water, seasonings, and chicken chunks then bring to boil..
Cover and simmer for 20 minutes..
Remove from heat then remove and shred chicken..
Add chicken back to pot with noodles..
Cover on hot burner that is turned off for 10min..
Quick and easy homemade chicken noodle soup recipe from scratch that's made in just one pot with simple ingredients. This soup is perfect for a weeknight dinner or lunch and just as good as this Crockpot Chicken Noodle Soup. It's especially helpful if you're not feeling well or have a nasty cold. In a large saucepan, bring broth and onion to a boil. Put the bones and carcass from a leftover chicken (they can be in pieces) in a large pot.