My Flavoured Chicken Barley Soup 🙄. Slow Cooker Lemony Chicken & Barley Soup is a wonderful combination of shredded chicken breasts, onion, garlic, fresh lemon juice, and a some baby spinach leaves for a perfect fall dinner that's entirely made in the slow cooker. Now that it's officially one of my favorite times of year, "soup & candle weather", a.k.a., fall, I have been in the kitchen making tons of new warm, comfort. Chicken barley soup means cooking barley in a flavorful broth, chicken in this recipe, complemented with flavor builders like fragrant garlic and shallots, thyme and bay leaves and an addition of sweet tomatoes.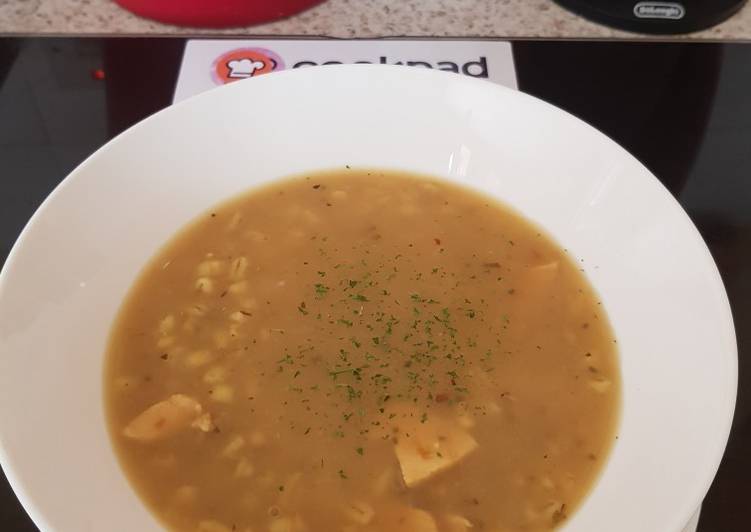 Tender chunks of chicken, barley and vegetables in a flavorful broth! Chicken Barley Soup is the dish my grandma used to make. While we most frequently have Beef Barley Soup, I do love the flavor of a rich chicken. You can have My Flavoured Chicken Barley Soup 🙄 using 9 ingredients and 5 steps. Here is how you cook it.
Ingredients of My Flavoured Chicken Barley Soup 🙄
You need 1/2 Cup of Rinsed Barley.
You need 1 of + 1/2 Pints Cold water.
Prepare 1/2 Tsp of Basil.
You need 1/4 Tsp of Pepper flakes.
Prepare 1 pinch of Salt.
It's 1/4 Tsp of Tumeric.
It's 1 tsp of Balsamic Vinegar.
It's 1 of Chicken Stock cube.
It's 1/2 of Chicken Breast sliced small.
This Chicken Barley Soup is exactly what this kind of weather calls for! Soups are one of the reasons I find myself looking forward to weather like this because it means snuggling up to a bowl of hot comfort. Here is my recipe for a classic chicken barley soup that is rich in flavor, packed with nutrients, and satisfying to both tummy and soul. I know Beef Barley Soup is generally more popular, but there's no reason this Chicken Barley Soup shouldn't share some of the spotlight.
My Flavoured Chicken Barley Soup 🙄 step by step
Rinse the barley add to a saucepan and the water. Bring to the boil turn down to simmer. Add the chicken stock sprinkled in..
Add Basil, pepper flakes and tumeric..
Next slice the chicken razor thin so it melts in the soup. Add the Balsamic vinegar and stir in the simmering soup mix. And simmer on very low for 1 hour stirring occasionally..
It will go thicker you will have to add 1/2 pint of boiled water and stir in if the barley has doubled in size it will still taste the same..
Next when it's been simmering an hour if you like it not thick leave and serve. But if you want it thicker add 1 tsp Cornflour/starch mixed in a little cold water and add little by little until you get the thickness you want..
It's got tons of flavor and is made with just SIX. Roast chicken in soup formI I need to experiment more with the amount of barley. Also be aware that you will have to add liquid if you have any left over to reheat. My mom, sister and I all enjoyed this. I will definitely make it again when the weather turns chilly again.