Lemon Chicken and Broccoli. Stir in chicken and lemon zest; heat through. Sauteed chicken and tender-crisp broccoli are infused with flavor from a savory lemon sauce in this exquisite skillet dish. Add broth, lemon zest and remaining lemon juice to skillet; bring to a boil.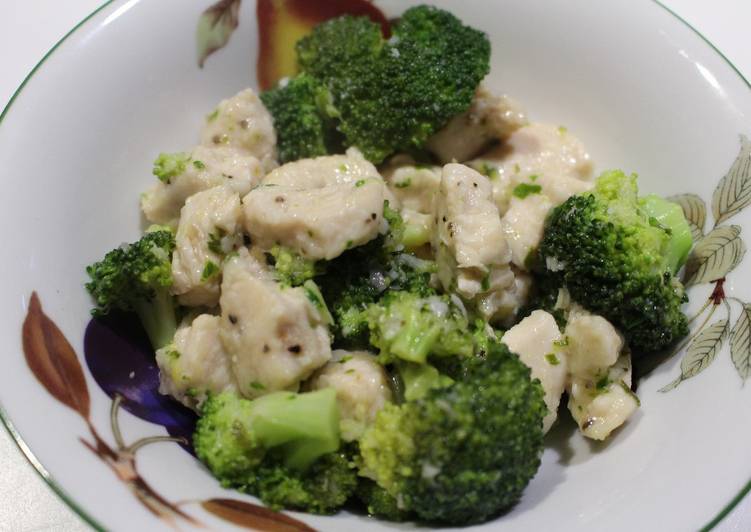 I love a good easy dinner that's all made in one pan. This Creamy Lemon Chicken, Broccoli and Rice Casserole is the perfect weeknight meal that is full of so much flavor and easily made in one dish without pre-cooking anything beforehand! Ok you guys this is literally the easiest thing you might make all week. You can cook Lemon Chicken and Broccoli using 11 ingredients and 7 steps. Here is how you achieve that.
Ingredients of Lemon Chicken and Broccoli
Prepare 2 Tbsp of all-purpose flour.
Prepare 1/2 tsp of salt, divided.
You need 1/4 tsp of black pepper.
You need 1 lb of boneless skinless chicken breast, thinly sliced.
You need 2 tsp of olive oil.
Prepare 1 1/2 cup of fat-free chicken broth.
Prepare 2 cloves of garlic, minced.
Prepare 2 1/2 cups of broccoli, uncooked, small florets.
Prepare 2 tsp of lemon zest.
You need 2 Tbsp of parsley, chopped.
Prepare 1 Tbsp of lemon juice.
Stir in chicken and lemon zest; heat through. It's a healthy and delicious meal on its own or can be served with any of your favorite sides, from baked potato, to garlic bread or rice. One of my favorite go-to entrées is chicken breast. Pour over the chicken breasts in a nonreactive bowl.
Lemon Chicken and Broccoli instructions
Combine: 1.5 Tbsp flour, 1/4 tsp salt and pepper. Coat chicken with mixture.
Heat oil in a skillet over medium-high heat. Add chicken and cook, turning as needed, until lightly browned and cooked through, about 5 minutes. Set aside.
Saute Garlic in skillet until fragrant..
Add 1 cup broth to skillet, bring to boil (scrapping browned chicken pieces off pan) add broccoli. Cover and cook for 1 minute.
Mix remaining broth, flour and salt. Add to skillet and simmer over low heat.
Cover and cook until broccoli is almost at desired tenderness. Add chicken and lemon zest, heat through.
Toss with lemon juice and parsley.
Heat the oil in a large frying pan or wok. Remove from the pan and add the garlic and broccoli. Mix the stock, cornflour and honey or sugar well, then pour into the pan and stir until thickened. Add the broccoli, soy sauce, lemon zest and juice. To make the glaze, stir in chicken stock, pineapple juice, lemon juice, honey, soy sauce, vinegar, ginger, garlic, cornstarch and Sriracha in the skillet.