chicken parmesan. Place chicken breasts between two sheets of heavy plastic (resealable freezer bags work well) on a solid, level surface. Coat a saute pan with olive oil and place over medium heat. Simple Chicken Parmesan is the perfect dish to lure kids into the kitchen – what kid doesn't like chicken tenders and spaghetti?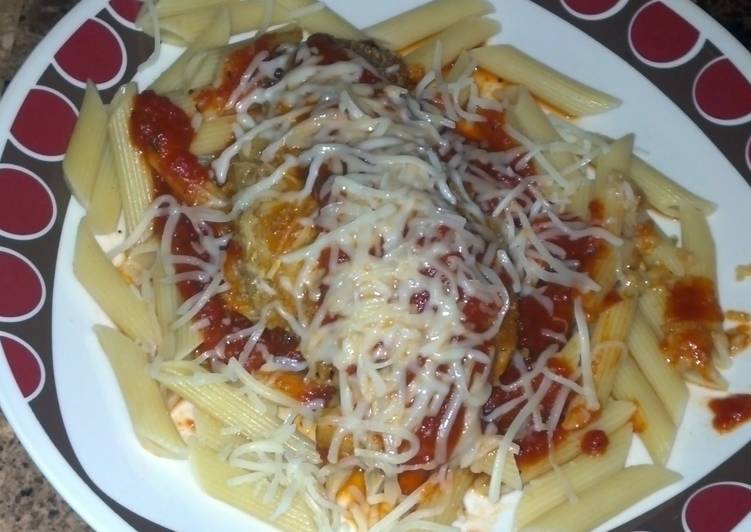 Chicken Parmesan is also one of the best uses I can think of for boneless, skinless, chicken breasts. Pound the chicken thin: Place the chicken cutlets one at a time between two layers of plastic wrap or wax paper. Use a meat hammer, mallet, rolling pin, or even a heavy empty wine bottle to pound or roll the. You can have chicken parmesan using 10 ingredients and 7 steps. Here is how you achieve that.
Ingredients of chicken parmesan
You need 1 cup of bread crumbs.
Prepare 1/2 cup of parmesan cheese.
You need 4 of chicken breasts (sliced in half).
It's 1 cup of melted butter.
Prepare 2 tbsp of olive garden house dressing.
You need 1 tbsp of italian herbs (to taste).
Prepare 1 of salt.
It's 1 box of desired pasta.
Prepare 1 jar of favorite spaghetti sauce.
You need 1 of favorite cheese to sprinkle on top.
Dip chicken in egg; then in bread crumbs. Place slices of mozzarella on top of chicken. Spread out to cover the whole bottom of the pan. Lay down as many chicken breasts as will fit on the mixture.
chicken parmesan instructions
preheat oven to 350°. Mix butter and dressing in bowl with salt to taste..
Mix bread crumbs, seasonings, and parmesan in separate bowl or bag.
dip chicken in dressing mixture and then to bread crumb mixture. place in ungreased 9×13 pan. drizzle remaining dressing over chicken.
bake for 45 minutes or until chicken is completely cooked through.
while chicken is baking heat sauce and towards the end of the bake begin boiling water for the pasta. Follow directions on box for said pasta..
serve with chicken atop the pasta and sauce. Pour additional sauce over chicken and sprinkle with cheese..
enjoy!.
In a shallow bowl, combine butter, mustard, Worcestershire sauce and salt. Place bread crumbs and cheese in another shallow bowl. Stir the oil and herbs in a small bowl to blend. Brush both sides of the cutlets with the herb oil. Make chicken: Prepare breading station with three large mixing bowls: one bowl with panko, garlic powder, and Parmesan mixed with a fork; another with the egg mixture; and the third bowl with flour.