Chicken Cordon Bleu Rolls. Use Our Step-By-Step Guide To Cook Simple and Delectable Meal Plans. Place a finger of cheese on each ham slice and sprinkle lightly with thyme and salt and pepper to taste. Top each with a slice of ham and cheese.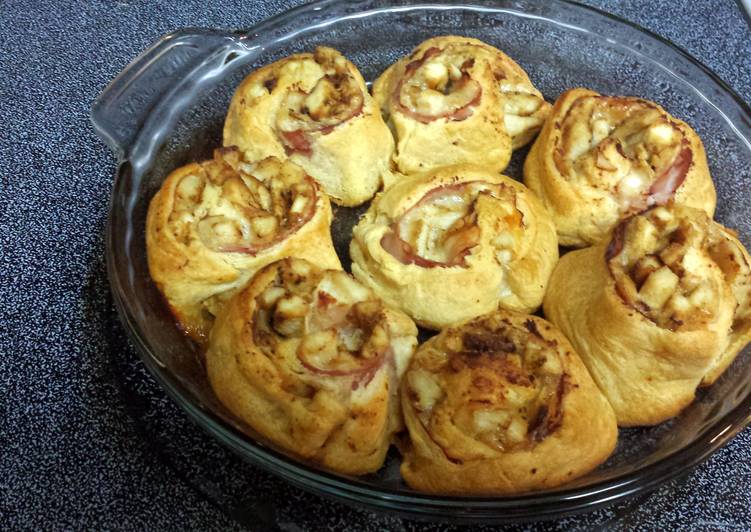 In another shallow bowl, combine cornflakes and seasonings. Dip chicken in egg mixture, then roll in crumbs. Place on a greased baking sheet. You can cook Chicken Cordon Bleu Rolls using 8 ingredients and 7 steps. Here is how you achieve that.
Ingredients of Chicken Cordon Bleu Rolls
You need 4 of thin sliced chicken breast.
It's 1 can of pilsbury Cresent rolls.
Prepare 1/4 lb of Swiss cheese.
Prepare 1/4 lb of smoked deli ham.
Prepare 1 tbsp of Italian seasoning.
You need 1 tsp of garlic powder.
You need 1 pinch of salt & pepper.
Prepare 1 pinch of (optional) adobo, only because I'm Puerto Rico and I put adobo on everything.
A clever technique and a few lightened-up touches let you indulge in all the flavor of Chicken Cordon Bleu, without all the fuss or the fat. It all starts with skipping the stuffed chicken breasts. Instead, pound your chicken breasts flat and layer with Swiss cheese, ham and spinach (for an extra boost of veggies). Then, roll them up, so the flavors can melt together.
Chicken Cordon Bleu Rolls instructions
preheat oven to 375.
lay out Cresent dough so that it forms a rectangle and pinch the seems together so that it does not fall apart when you roll it.
layer the cheese then ham then cheese then ham (this will hold it together) on the dough and set aside.
season your chicken with the Italian seasoning, garlic powder and s&p and sauté the chicken.
Once chicken is cooked layer it on top of the ham and cheese.
roll it lengthwise so that it forms a log and make sure that it is nice and tight. Put it on a cookie sheet and bake for approximately 30 min or less or until Cresent is golden brown.
Once cooked make 1 inch cuts and serve.
Make dinner easy and your family happy with these delicious Chicken Cordon Bleu Crescent Rolls! Keyword chicken cordon bleu, chicken cordon bleu crescent rolls. Working with one at a time, roll chicken first in flour, then eggs, then panko mixture, pressing to coat. Roll up and tuck in ends; secure with toothpicks. Place butter in a shallow bowl.